The steady rhythm of braiding. Strand over strand, braid down, tie off, bump up, secure, and repeat. Professional braider Kerianne Manipole says, "The Exhibitor's Quic Braid provides just the right grip and flexibility when braiding. It helps with laying down those tricky flyaways so the finished picture is a work of art."
Official Braider for Team Exhibitor's 
Quic Braid, a staple in Kerianne's braiding kit for years, just gives authenticity to Exhibitor's announcement:  Exhibitor is proud to announce Kerianne Manipole as the official braider for Exhibitor's grooming products. Kerianne gives credit to the Exhibitor's Quic Braid for keeping her braids looking their best over the years.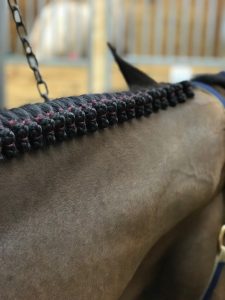 A Braider's Professional's Solution
Clean, neatly constructed braids are a necessity in the show ring and Kerianne is able to skillfully braid ten horses a night with Quic Braid by her side. She recalls a moment when Quic Braid was her go-to product in a photoshoot with accomplished Sidelines photographer, Shawna Simmons. 
 

"The most memorable moment in my career was doing a photoshoot with Shawna for Devoucoux, a luxury saddle manufacturer. My braids were plastered all over Paris and across France in their catalog and the pictures are still circulating around today!" 
Best Turned Out with Quic Braid 
Kerianne did not foresee becoming a professional braider. Originally, she worked in veterinary medicine as an assistant at Woodside Equine Clinic. She enjoyed the work, but ultimately had to pick between her braiding business and working at the clinic.
Six years later, Kerianne has traveled up and down the East coast, sharing her skills with others and presenting the best turned out horses. Her well established business has enabled her to pursue her passion for riding. 
Blue Ribbons 
She is spending this winter at the largest hunter/jumper circuit in the world. The Winter Equestrian Festival in Wellington is the perfect place for Kerianne to continue braiding the top horses in the world and riding her five-year-old Off the Track Thoroughbred, Josie. With a couple Hunter Championship titles under their belt, the future is looking bright for this pair!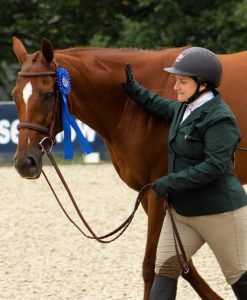 When asked where she sees herself in ten years, Kerianne exclaims, "Often times there are things that do not go as planned. So, I take things as they come and so far, I have been very happy with that. This job allows me to take my horse with me wherever I go." 
Exhibitor's grooming products will be a staple in Kerianne Manipole's grooming kit as she travels the nation. Her braids will continue to capture attention across the globe, and we are proud to be Kerianne's professional grooming solution!
---