A Horse Lover's Christmas List
We are coming down to the final hours to order a Christmas present! Where are you in your Holiday shopping? Do you have that one friend or family member that always ask for horse gifts? 
Should be easy right?! Until you read their Christmas list and it looks something like this:
Horze breeches
Spurs
Medium weight horse blanket
Grooming supplies
An Interpretation of Horse Gifts
Okay, don't panic You tell yourself. Although this list seems like Morse code, you pull from what you already know.
"Horze breeches" Must have been a typo
"Spurs" I've seen those jingling rollers in western movies on cowboy boots
"Medium weight horse blanket" Weighted bed comforters are the best especially with horses on them
"Grooming supplies" Must be referring to hair brushes, lotions, shaving accessories
Unfortunately, not quite that simple. So before you ask for a list from that special horse person, here are a few ideas:
Simple Horse Gifts 
Do they enjoy cooking? This Horseshoe Heart Trivet is the perfect countertop saver from hot plates. When not in use, it can also act as décor! Add a little good luck to the household, and maybe even the cooking!
Horse Quote Mug
Maybe the person you are buying gifts for is not big into cooking… or maybe you would rather have them steer clear of the kitchen. This mug is a simple gift to warm someone's heart and hands as they cup their favorite warm drink. Perhaps their drink is a warm cinnamon apple cider, or a steaming mug of hot cocoa topped with whipped cream. Regardless, you can't go wrong with this one!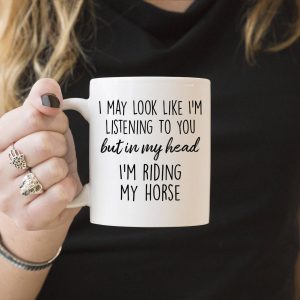 Sweet Treats
Do you want to make friends with their horse? No horse will turn away the Minty Muffin treats! You will make their day, and that's pretty much as good as a present for the horse lover! A happy horse is a happy rider!
Hand Painted Horse Portrait 
A horse lover's best friend is in fact, their horse. Capture the beauty with this custom horse portrait! It will look beautiful hanging up on the wall and will bring happiness and fond memories to the room. Simply send in a favorite photo, and let it come to life on canvas!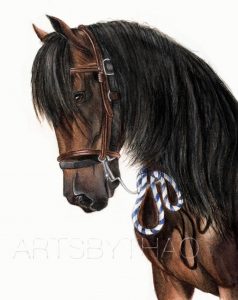 Personal Horse Bracelet 
Another heart felt gift is this beautiful, custom horse hair bracelet. Of course, you will have to get some horse hair, so if the rider does not have hair stored prior, this may not be the way to go! We do not want the rider opening up the gift and seeing a chunk of their lovely horse's tail missing! But if they have always wanted a custom bracelet, this gift comes wrapped with a small hand stamped name plate!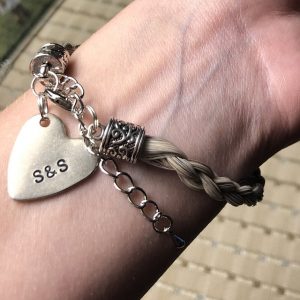 Keychain
This customizable keychain will accompany the rider wherever they go! A great horse gift for a new driver too! The back can even be engraved with a special message. You can be sure they will always smile when they see this keyring. Hand finished with wood oils; the rich color will make a lovely addition on their keychain!
Horseshoe Wine Rack 
Top off the night by grabbing a wine from this finely welded Horseshoe wine rack. Made from real horse shoes, no wine rack is the same. Keep it filled with your favorite, seasonal wines and it becomes the gift that keeps giving!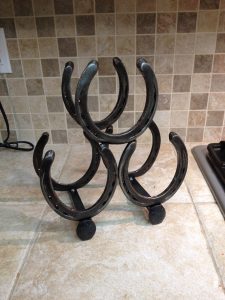 Happy Holidays
We hope this sparked some inspiration for your holiday horse shopping! Before you panic about picking out the right horse blanket, or breeches, choose from the options above! The horse lover will appreciate the custom designs and heart felt gifts.
From everyone at Exhibitor's, happy holidays!