As the saying goes, "it is the little things in life that matter." For US International Para Dressage rider David Botana, it was a small pair of earrings that ignited the goal of Tokyo 2020.
David Botana Becomes a Horse Owner
It was a normal day spent helping his mom in the soup kitchen. A woman was wearing horse earrings and naturally, between a couple of horse lovers, a conversation arose between David's mom and her. 24 hours later, David found himself petting his new Pony of America named Notorious Rockstar. Standing at 12.3hh, "Rocky" was David's first horse. This little pony lived just across the fence from David and together, they worked up the 4H ranks in Western Pleasure.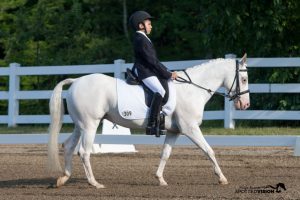 Para Sports 
David Botana is more than your average dressage competitor.  He competes in Para Dressage, a Paralympic Sport, which is another form of dressage for people with permanent impairments. For example, impaired muscle power, range of motion, short stature or vision impairment. Athletes are judged on the horse's movement, geometry and gait, and equestrian feel and skill of the athlete. In Para sports, the athletes are divided into five Sport Classes called Grades. This is decided based on the athlete's functional abilities after a review of medical documentation and a bench test with a Classifier.
Para Dressage
For Para Dressage, Grade One athletes have the most functional impairments, while Grade Five athletes have the least functional impairments, and the requirements of the Para Dressage Tests is reflective of the athletes Grade to ensure a level playing field. David competes in Grade One Para Dressage Tests, which focuses on movements in the walk. Para Dressage Athletes can use approved adapted equipment and compensatory aides. For example, David uses looped reins.
David Botana's Road to Tokyo 2020
In 2016, David's family moved from Indiana to Portland, Maine for his father's work. It was this move that sparked the discovery of Para Dressage and solidified his Paralympic goal. David recalled the decision to pursue his Paralympic dream, "this was something where the playing fields are level and I could make it to the highest level."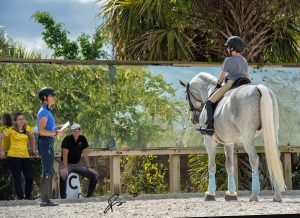 An Unexpected Partnership 
Rocky moved to Maine with David, but he realized Rocky was not his Paralympic horse. At the time, David and Rocky were training with USDF gold medalist, International Grand Prix rider, and Licensed Dressage Judge, Susanne Hamilton. One afternoon after their lesson, Susanne asked David if he would like to sit on Lord Locksley, a Grand Prix mount, owned by Meg Stevens. It was quite the jump from his 12.2hh pony! Locksley is a 16.2hh registered Trakehner stallion, standing much bigger than Rocky. As David got in the saddle, he thought to himself "Wow, the trees are really short from up here!" Susanne led David around the ring and quietly unhooked the lead from Locksley.
"It is just amazing, the movement of a horse. It felt like going from a steady, reliable Camry to an extremely powerful Ferrari."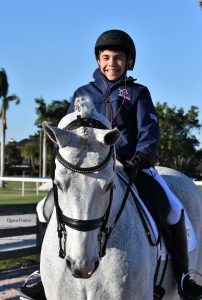 On the Team 
Their partnership is like destiny. In March of 2019, David and Locksley were selected to represent the United States on the international Para Dressage team at the Adequan Global Dressage Festival 9 CPEDI3*. David has been named as an alternate before, but this time, his team was depending on him. He delivered stunning tests to contribute to the team's all-time high score, improving the US country's world ranking and in turn, hopefully increasing the opportunity for a bid for the Tokyo 2020 Paralympics. 
Elite Athlete 
This was a defining moment in David's career, as David's performance moved him to an Elite Athlete, receiving additional training support through the United States Equestrian Federation, USEF. Finally, all of the hours spent in the saddle started to pay off and he became an inspiration for others.  David continues to compete at the international level and his goal is to be selected to represent the USA and medal at the Tokyo 2020 Paralympics.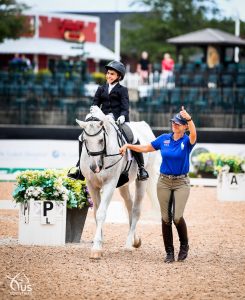 Along for the ride with David and Lord Locksley has always been the Exhibitor's Quic Braid.
"At Tryon National Championships in 2019, Lord Locksley had a moment to rest and take a nap before the competition. When we checked on him, shavings were rubbed all in his braids.  After plucking out the shavings the braids no longer looked as tidy as we would like.  It took us very little time to tear out all the braids, brush them out, and spray them again with Quic Braid. Within ten minutes Lord Locksley's braids were in great shape again."
Saving Grace Moments 
The superior formula of Quic Braid provides complete mane and tail control that offers the perfect slip free grip. In down-to-the-wire moments like David's, Exhibitor's continues to deliver the professional's solution. We look forward to our products traveling with him on his journey to Tokyo 2020!
---
The professional's solution can be in your grooming kit too! Get your horse ready for the show ring with Exhibitor's grooming products. Begin with Quic Shampoo to rid your horse's coat of unwanted dirt and dander. Follow up in the mane and tail with Quic Conditioner to lock in the moisture and fortify hair strands! Need to tame the unruly mane? Use David Botana's favorite product, Quic Braid! Available on Amazon.