Lights. Camera. Action! Exhibitor's is proud to shine the spotlight on our newest ambassador, Amina Sade' Bursese. International Grand Prix Dressage rider, Amina resides in Pawling, NY for the summer months, and Jupiter, FL in the winter at Casa Arte Equestre.
Grace in Motion 
The grace and harmony displayed between Amina and her PRE stallions align with the Exhibitor's professional's solution. The harmony is seen with her longtime partner, PRE stallion, Fiti AL. He was the first horse Amina developed from training level dressage to the Grand Prix ring. Each taught one another the skills necessary to perform at the highest level. A remarkable accomplishment that calls for dedication and commitment from the horse and rider.
Bareback to Grand Prix
Amina's journey to the Grand Prix level did not begin in the dressage ring. Instead, Amina originally thought riding went as far as causal bareback rides. She would enjoy them on her family's small breeding farm in Broadalbin, New York. With nothing more than a halter, Amina recalls a time her and her friend rode double bareback.
"One time my friend and I both hopped on together. It was all good until the horse stepped into a ground bees' nest! At the time it wasn't funny, but looking back and seeing that all we hurt were a few broken bones… it's a good laugh."
Meet the Horses
Perhaps the bareback riding was the development of a natural seat and feel for Amina. She began to seriously pursue riding when Fiti AL came into her life in 2014. Her husband, international dressage rider Diego Gonzalez, played a significant role in her career. Under the guidance of Diego, Amina advanced to the Grand Prix level with her partner Fiti AL.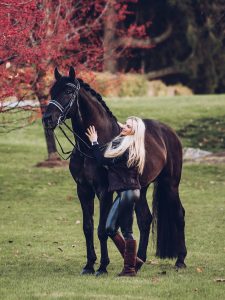 Also joining Amina's string of horses are, Flamenco YM and C Discreto. Flamenco YM is a stunning, black, 9-year-old PRE stallion who Amina also developed from the training level to the Prix St. George ring. Amina has her sights set to develop Flamenco through the FEI levels, ultimately into a Grand Prix horse. The newest addition to the team is a five-year-old PRE stallion, C Discreto. Their goal is to compete in the FEI 6-year old's the following year.
Best of Both Worlds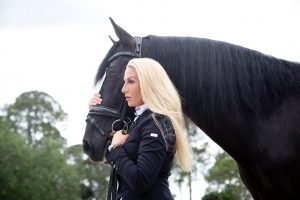 Before Amina started competing in dressage, she modeled professionally in the fashion industry. When she began to pursue riding, Amina brought her modeling to the equestrian world. Their stallions are flashing their dapples and Amina is bringing a unique light to the dressage industry. Fashion meets style, and style meets talent to form a beautiful picture the cameras cannot get enough of!
How Amina Sade' Bursese uses Exhibitor's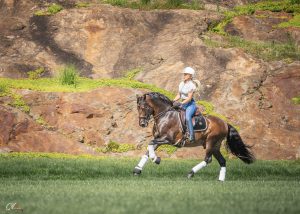 Amina credits the Exhibitor's line of product for making her horse's coats shine. The color enhancement products, Quic Silver, Quic Black, and Quic Color are free from dyes. Amina trusts the professional's solution to bring out Flamenco's deep black color. She begins bathing with the Quic Shampoo and follows with the Quic Black. While the Quic Black enhances the coat, she works the Quic Conditioner into the mane and tail. Once Flamenco is rinsed and toweled off, Amina uses her favorite product, Quic Sheen to intensify the shine, moisturize the hair and wick away dirt and dust.
Saving Grace
The Exhibitor's products not only enhance the horse's color, but work on breeches too! Exhibitor's Quic Silver Shampoo came in handy when Amina was stranded with one pair of white breeches at a three-day show. And if you know barn life, horses and white pants do not mix!
"Being at a 3 day show with only one pair of white breeches, I used the Quic Silver Shampoo each night to wash my breeches and they were the whitest and cleanest they have ever been!" 
Amina shared another trick with us. She uses Quic Silver in her own hair! The specialized technology optically alters the way light interacts with hair, which enhances Amina's incredible platinum blonde highlights! The horses are not the only ones attracting the cameras!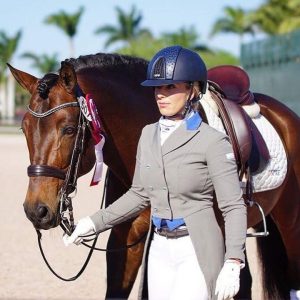 Amina's passion lies in developing horses to the Grand Prix level. Ultimately, she sees herself training her stallion's offspring to reach their fullest potential. Exhibitor's is proud to be part of that process! You will find our shining bottles in her wash rack and possibly the occasional laundry trip!
---
Are you curious to see the results for yourself? Use Amina's favorite products, Quic Silver and Quic Sheen for your horse! Quic Silver is stunning for gray and albino coats, bringing out silvery highlights. It also brings out golden highlights in palomino and cream coats. For best results, begin with Quic Shampoo to remove dirt buildup. Follow with the Quic Silver for color enhancement! Finally, lock in the moisture and strengthen hair strands with Quic Conditioner.