We have a surprise in store for you in this segment on Equine Blogs! Ella Gray will take you through how her passion for Thoroughbreds  developed and her insight about the date, January 1st.
Ella Gray
Who am I?
"Colorful silks, the earthy smell of the track dirt and sleek horses thundering to the finish. These are just a few of the many experiences when you visit the racetrack. As a little girl growing up in north-west Wisconsin, all there is are horses and cows, but no horse racing tracks in the whole state."
Bitten by the Horse Bug
"I was first bitten by the "Horse Bug" when the 2006 film, "Flicka" was released. I must have watched that movie every day of the week. We never had horses, but many of our close friends did."
"I would beg my parents to bring me to spend time with the horses. One of our close family friends actually purchased a great-great grandson of Seabiscuit. At the time, I did not know who Seabiscuit was, so he gave us the film "Seabiscuit" to watch and I loved it.  Horse Racing is one of the country's oldest sports and it continues to captivate crowds daily."
Race Day
"The first horse race I have ever watched was the 2008 Kentucky Derby. From the moment the gates crashed open and the horses began running, I was hooked. Big Brown won the derby that day and he was all I could talk about for weeks. I slowly began to learn more and more about horses in elementary school. Every horse related book in our library was read thoroughly by me."
From Model to Real Life
"At age 11, I remember seeing a Breyer horse in a local Farm And Fleet store and I had to have him. Fast forward to 2018 and I now have 200+ Breyer models worth over $5,000. I credit model horses for teaching me a lot about real horses and I even attend BreyerFest each year."
Home away from Home
"I first began photographing my model horses and eventually moved onto racehorses. Canterbury Park is the closest track to me and you can count on me being there most of the racing season. There is just something special about being in the presence of the magnificent Thoroughbreds."
Taking a Step Forward
"Some of my fondest moments are meeting the lovely people at the track. Jockey's have always been very special to me, although I cannot tell you why. I made up my mind a few years ago that I will become a jockey one day. Starting in January, I will be starting online classes through the North American Racing Academy (NARA) to get ahead on their jockey program."
All Birthday's lead to January 1st
It may be hard to believe, but January 1st marks the birthday of around 21,500 registered Thoroughbreds in North America every year. The Thoroughbreds are a breed known for their impact in the horse racing industry dating back to 700 – 40 BCE at the Olympics held in Greece. What began as chariot and bareback races, is now an organized racing sport known throughout the world.
Our guest, Ella Gray tells us more about this monumental date. "This [date] was created to make it easier for owners, trainers, and breeders to keep track of bloodlines. It also plays a part in racing purposes. A Thoroughbred colt or filly has to be at least 2 years old to compete in a race. Some races only let certain ages race. For example, the Kentucky Derby is only open to three-year old's."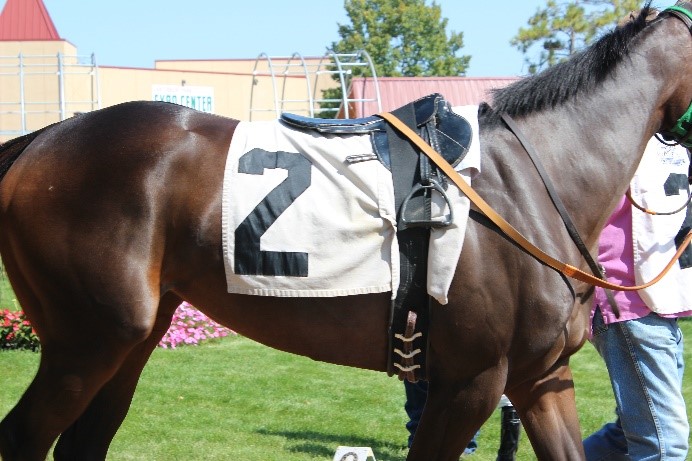 A trade-off
"Although this system is extremely helpful, it also presents some challenges. If a Thoroughbred is born on December 31st, the next day (January 1st) the foal is considered one year old. A one-day old horse is now a one-year old horse. Because of this, the foal will not have as much training and usually not run well until 4 years of age. Buyers may shy away from foals born late in the year because they lack the training."
The famous Seabiscuit was born in May, giving him an advantage over the foals born in the later second half of the year. To increase the likelihood of the mare birthing a foal in the first half of the year, some facilities have artificial sunlight.
Typically, mares will not begin to cycle normally until April, with a normal gestation period of 345 days, which is around 11 months. In order to increase the likelihood of a mare foaling in the earlier half of the year, breeders use artificial sunlight to stimulate the production of reproductive hormones. The mare typically needs 16 hours of exposure to sunlight, which can be provided by 200 watt bulbs in the stalls.
Not all breeders implement this breeding strategy, and the argument can be made for both sides. On one hand, the mare's cycle should be regulated to allow the foals to mature before January 1st. On the other hand, people stand by the natural reproductive cycle.
The birth date of Thoroughbreds present some challenges, but was ultimately created to regulate the age groups that define horse racing today. To read more about these magnificent horses, racing around 37 mph, click on the link here!
---
Try our Exhibitor's Quic Shampoo and Exhibitor's Quic Conditioner to bring out the shine in your horse!